Originally in
The Oklahoma Daily
on August 31st, 2007.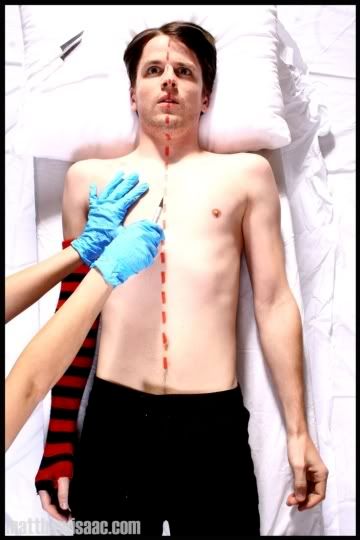 Typically, a rock show is a joyous affair. Bands want their audience on their feet, clapping, singing and generally having a great time. Such is not the case for one-man-band El Paso Hot Button's "When I Needed Sympathy" CD release show at the Conservatory tonight.
"I want everyone to be sad that I'm putting out another album," said Mickey Reece, sole member of El Paso Hot Button.
Fans who dress in funeral attire can get in for only $5 (it's $7 for everyone else). Reece said he has more on his mind than just the release of his new CD.
"My basic goal Friday night, aside from putting on a really swell rock show, is to introduce the teachings of L. Ron Hubbard to a younger audience," Reece said. "Ever since I began studying Dianetics and Scientology as a religion I've wanted to incorporate that kind of spirituality into my shows. I'll be there early Friday morning cleaning up the Conservatory in my own special way."
Producer Chris Harris, who has worked with Reece on all three of his records, said that it has been an interesting challenge.
"He goes about things a little differently than anyone else I've worked with before," Harris said. "Most bands come in with a bunch of songs written and take a somewhat methodical approach to recording them. With Mickey, it's a little different.
"He comes in with a few ideas, and a general plan for how he wants things to sound. But, so much of the writing and arranging is done in the studio. I've just got to be prepared for anything. The ideas come quickly and I need to be ready to capture them.
"His recent interest in Scientology has made things even more hectic. Imagine Tom Cruise's behavior on Oprah Winfrey's show, combined with the intensity of his interview with Matt Lauer. Now, throw in some crazy musical talent and a 2.3 second attention span. That's what it's like working with Mickey."
Harris said he and Reece work so well together that they have recently formed a production team called DVDA.
"DVDA refers to a type of pornography that Mickey likes to watch for inspiration when writing music. Thankfully, he does that stuff on his own, away from the studio," Harris said. "Mickey and I have now teamed up for production on Ali Harter's 'Worry The Bone,' We Are Good Friends' debut, all the El Paso Hot Button recordings since "Turtle Wars," and a new Subatomic Pieces record that we're working on now. DVDA has one reason for existence, and that's to make bad-ass music, period."
Also playing the CD release show tonight are Those Peabodys, The Non and Crazy Diamonds.
"Those Peabodys and I played together at Emo's in Austin and planned to do some dates together in late August which just happened to fall right around the time for my CD to drop. They're playing the Denton and Tulsa show with me as well," Reece said. "I've known The Non since they started playing, but since I'm always opening for touring acts, I don't get to play with that many local bands. El Paso Hot Button and The Non has been a long time coming. Crazy Diamonds are the fresh, new hotness. They got mad flava, yo."
This will be fans' last chance to see Oklahoma City band The Non for quite some time.
"This is our last show for four months, because I am spending this semester traveling abroad in the Pacific Rim nations," said Will Norton of the Non. "There will be a lot of people there to hear us for the last time in a while, and the show is a big deal for us.
"With that added to the sheer event of Mickey's CD being released, this really will be quite a night to remember."