Originally in
The Oklahoma Daily
on August 17th, 2007.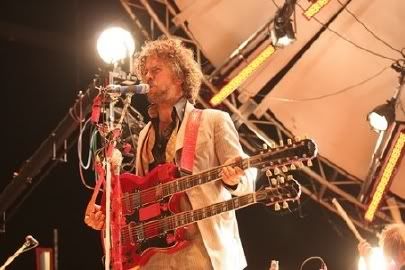 The Flaming Lips aren't exactly a band that gets their projects out to the public in a timely manner. After all, band leader Wayne Coyne's movie "Christmas on Mars" has been in production limbo for over five years. Recently, the band's concert film "UFOs at the Zoo" has been delayed numerous times, but is now set to come out this Tuesday, Aug. 21. The delays were apparently caused by The Lips desire to give the fans more material.
"The Lips wanted to include some additional footage which caused the delay in production," explains the Warner Bros Records website.
"U.F.O.s at the Zoo" was filmed last September at Oklahoma City's Zoo Amphitheater. Nearly 10,000 enthusiastic fans, many of whom were dressed in elaborate costumes, packed into the venue to see their hometown heroes debut their new UFO stage show. The band played songs spanning their lengthy career, but drew mostly from their most recent release "At War with the Mystics." The night was filled with confetti, balloons, fake blood, and furries.
"Steve Drozd, Michael Ivins, and surrogate drummer Kliph Scurlock descend from underneath the UFO, and Wayne Coyne appears in a giant bubble, which he takes into the crowd for a tremendous feat of crowd-surfing," explained Pitchfork Media's Stephen M. Deusner in his review of the DVD. "What follows is half-party, half-rave, half-freak-out — which is one too many halves but speaks to the maximalism of the show. There's the by-now traditional nun puppet, the mechanical bird that Coyne flies around stage like he's a child making airplane noises, a megaphone that spews dense smoke, and a mic-mounted camera that gets you a little too close to his beard."
The DVD is set to be released in Warner Brother's new MVI format, which may have been the cause of delays. The MVI version of Rush's "Snakes and Arrows" was delayed, while other MVI releases have been put on hold indefinitely.
"MVI is a DVD-based product that's loaded with a full album's worth of music, compelling video content, plus a variety of exciting interactive features that you can activate with your computer. It plays in all DVD players, computers, and video game consoles with DVD drives," the Warner Bros Web site said.
Offering much more than a standard live music DVD, "U.F.O.s at the Zoo" is said to contain the entire concert, backstage footage, digital artwork and even a ringtone application.
There have been rumors of another delay, but Guestroom Record's Travis Searle is confident it will be released Tuesday.
"It's definitely coming out this time," said Searle. "I ordered them Wednesday and they are on the truck today."
Guestroom Records had planned to screen the film right before a midnight sale, with the Lips making a surprise appearance, but now it's looking to just be a midnight sale.
"We were relying on The Lips for their projection equipment, but now they aren't going to be in town," explained Searle.
"UFOs at the Zoo" will be in stores everywhere Tuesday. Fans can obtain a copy early at the Oklahoma City location of Guestroom Records this Tuesday at midnight.